Upcoming Events
---
August 24, 2017 4:00 PM

Chromebook Distribution Session

August 28, 2017 5:00 PM

Meet the Principal Family Picnic

August 30, 2017 4:00 PM

Chromebook Distribution Session

September 1, 2017

Teacher In-Service

September 4, 2017

All Schools Closed

September 5, 2017

Teacher In-Service

September 5, 2017 11:00 AM

BRS Meet & Greet Open House

September 5, 2017 1:30 PM

AES Open House

September 5, 2017 4:00 PM

Chromebook Distribution Session

September 5, 2017 6:45 PM

Kindergarten Meet Your Teacher Night

September 6, 2017

Marking Period 1 Begins

September 6, 2017

First Day for Students

September 6, 2017 6:45 PM

First Grade Meet Your Teacher Night

September 7, 2017

Fall Sports Physical Due!!

September 7, 2017 7:30 PM

BOE Meeting - Work Session

September 8, 2017

AES Fun Friday

September 8, 2017 9:00 AM

Character Ed Assembly

September 12, 2017

LMS Picture Day
AEC v1.0.4
District
BRS
LMS
AES
FLW
PTA
BOE
---
Genesis Parent Access is now available!!
Please note:
Forms in Genesis
You will automatically be prompted to provide a response to the Genesis forms the first time you log into the system each year. You will not be able to access the main student information screens until responses to these forms have been completed.
Consent to Survey Student
Family Military Status
Permission for child's name and/or photo to appear in news media
Posting of child's name and/or photo on district website and/or social media
Student use of Internet and District Network
Dear Lumberton Middle School Parents and Guardians,
This year, ALL students who attend Lumberton Middle School will be part of an exciting one-to-one initiative that assigns each student a Chromebook for the year and allows them to use the device in school and at home.
In order to allow your child to begin the school year seamlessly, you will need to sign for and pick up your child's Chromebook prior to the start of school.
The process for this is as follows:
1. Watch the following video: https://www.youtube.com/watch?v=6YCQH4RZgDo (get your popcorn ready)
2. Go to the following page: https://www.lumberton.k12.nj.us/11-initiative/
3. Review the Chromebook 1:1 District Policies and Regulations Manual that can be found on this page.
4. Print, read, complete and sign the following forms found on this page.
Chromebook Policies Acknowledgement Form
Chromebook Damage Protection Options
LMS Anti-Big Brother Notice 2017
5. Bring of all of the paperwork to one of the distribution sessions listed below. Also bring cash or a check for $35 if you will be taking part in the district's Chromebook protection plan program. The distribution sessions are as follows:
Tuesday, August 22, 2017 from 4:00 – 6:30 pm in the BRS Gymnasium
Thursday, August 24, 2017 from 4:00 – 6:30 pm in the BRS Gymnasium
Wednesday, August 30, 2017 from 4:00 – 6:30 pm in the BRS Gymnasium
Tuesday, Sptember 5, 2017 from 4:00 – 5:30 pm in the FJL Performing Arts Center
Thank you in advance for supporting this technology endeavor,
Lumberton Technology Department
Please join us in welcoming Mr. Wrigley as the new Lumberton Middle School principal effective August 21, 2017.
More information can be found HERE.
The next Board of Education meeting is scheduled for August 17, 2017 in the Board of Education conference room. There is a vacancy on the Board of Education. For details please click here.
The Genesis parent portal will re-open at 4pm on August 21, 2017.  Hope everyone has had a great summer so far.  Enjoy the remainder of the summer and see everyone soon!  Looking forward to a fantastic school year!!
Students registered after Wednesday, August 23, 2017 will not have transportation services until Wednesday, September 13. 2017.
Each year, Lumberton Middle School participates in a One Book, One School program. The idea of One Book, One School is to engage the entire school community — from students to staff — in reading and discussing one novel during the school year. The school community also participates in activities that center on the book's themes.
This year's selection is Unstoppable by Tim Green. Please purchase this book for your child(ren) and ensure that they read the FIRST chapter ONLY before the start of school.
You may read the synopsis of the story by clicking on the follwoing link: http://www.goodreads.com/book/show/13623913-unstoppable
Thank you,
Lumberton Middle School
Dear Lumberton Parents and Guardians,
Hunger doesn't take a vacation! Federal summer meals programs provide a solution to summertime hunger for kids. Communities across New Jersey are increasingly offering free meals to children in the summer at schools, parks, libraries and other places where children congregate.Not only can kids get healthy meals, they also can connect with friends, engage in fun, healthy activities and get some exercise. Many students rely on school meals to get the nutrition they need to grow, be healthy and succeed in school. In the summer, these children lack access to those meals and families struggle to put food on the table.
Call the National Hunger Hotline at 1‐866‐3‐HUNGRY  or visit their website at www.fns.usda.gov/summerfoodrocks to find a USDA Summer Meals Program near you, and your children can eat for free. Open to ALL children 18 and younger! No enrollment, no cost!
Lumberton Township School District
2017-2018 EDC REGISTRATION
Online registration for the Extended Day Care Program is open to all Lumberton families. Registration will remain open until mid-August.  Registration is on a first-come, first served basis. The non-refundable registration fee for the 2017-18 school year is $50.00 per family.
To register as a new parent/family for EDC, log on to the EZ Track Website at:
https://www.ezchildtrack.com/lumbertonedc/parent
After you complete the online registration for your family, you will receive an email saying your application has been submitted.
Once you are approved, you will receive an email with a temporary password. Log back into the system and use the "Returning Customer" icon and enter your email and the temporary password and then you will be able to create a custom password. (If you used our program during the 2014-15 or 2015-16 or 2016-17 school years, you can go back onto the web site as a "returning customer", update your information and then register for the 2017-18 school year.)
Please note: the fee of $50.00 must be submitted upon registering your child in order to reserve a spot.
Our online system accepts e-checks or credit card payments; all registrations must be completed online.
The online calendar for scheduling your child for specific dates for childcare will be available by the end of July. An email will be sent to all registered families with more information.
Please contact the EDC Office by phone at 609‐261‐2974 with any questions or for more information.
DISTRICT SUMMER HOURS: Summer hours for the school main offices and Board of Education Office:
Week of July 3: Offices closed Monday & Tuesday, July 3 & 4; open Wednesday-Friday, July 5-July 7, 7:45 am—4:00 pm.
Weeks of July 10-Aug 21: Offices closed Mondays; open Tues-Fri, 7:45 a.m. to 4 p.m.
During the summer months, school main offices will be closed daily from 12-1 p.m. for lunch. Please contact the school main office via phone or email to schedule appointments to handle school business.
PARCC testing dates
AES: April 23- May 2 (1 unit each day)
BRS: April 24- May 3 (1 unit each day)
LMS: May 8-10 (I ELA + 1 Math unit each day)
This is the tentative schedule as of 6/5/17
Bicycle Rodeo-new date!
Mark your calendars for Saturday, September 30th from 9:30am-12pm…Lumberton Police Dept will be hosting the Bicycle Rodeo in the parking lot of the Township Building. Join them for some family fun and a chance to win a bike!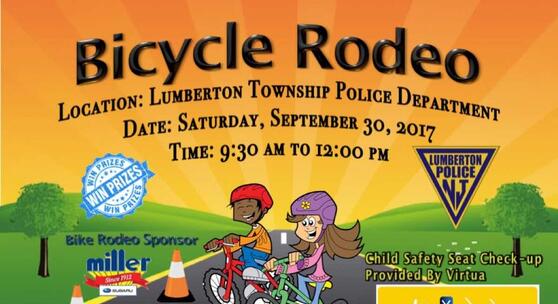 Please click HERE to view the 2017-2018 District Calendar.
The Lumberton Township School District is committed to providing all students with a safe learning environment that is free from harassment, intimidation, and bullying (HIB). Ms. Kim Hoffman is the District Anti-Bullying Coordinator. She can be reached at khoffman@lumberton.k12.nj.us or 609-518-0030. In addition to Ms. Hoffman, the contact information for the FLW, AES, BRS and LMS Anti-Bullying specialists can be found on the home page of each respective school.
The district HIB policy can be accessed HERE. Official NJ Department of Education score for the district overall is 56; Florence L. Walther School scored 55, Ashbrook Elementary School scored 58, Bobby's Run School scored 55, and Lumberton Middle School scored 57. The following ARTICLE explains the HIB scoring process in more detail.
The official 2015-16 District/Schools Self-Assessment for Determining Grades as determined under the Anti-Bullying Bill of Rights Act (ABR) (P.L.2010, c.122) can be found HERE. "While completing the Self-Assessment, we learned that our school district/schools have demonstrated strengths in the following area: Character Education. A review of these programs will be given at the February 9, 2017 Board of Education Meeting."
---
Each year, the district selects four classroom teachers and one educational specialist as the Governor' Educators of the Year. It is our great pleasure to release the names of the district's 2016-17 honorees. Each one of these fine education professionals has gone above and beyond, in and out of the classroom. Please congratulate each one, as they deserve our gratitude and well wishes!
Educational Specialist
Mrs. Megan Mancini, Reading Specialist
FLW
Mrs. Marny DeSantis, 1st Grade Teacher
AES
Mrs. Melissa Antinoff, 3rd Grader Teacher
BRS
Mrs. Lauren Asaro, 4th Grade Teacher
LMS
Mr. Gary Egbert, 6th Grade Language Arts & Social Studies Resource Center Teacher
Each year, the district selects five support staff members, one from each school and one district employee, to honor as Lumberton Support Staff Members of the Year. It is our great pleasure to release the names of our district's 2016-17 honorees. Each one of these fine educational support professionals provides the much-needed classroom and ancillary support that enables each of us to do our jobs better.
Again, we see the work ethic that each one of these outstanding staff members provides, and are happy that they are part of our district family!
District
Mr. Chris Cline, Desktop Support Specialist
FLW
Mrs. Kelly Rodgers, Instructional Aide
AES
Mr. George Alers, Custodian
BRS
Mrs. Dawn Lally, Instructional Aide
LMS
Mrs. Colleen Pendergast, Instructional Aide
A message from the Lumberton Township School District:
Dear Lumberton Parents and Guardians,
Tomorrow, your child starts back to an exciting new school year! So that you are prepared, we want to let you know about a few changes to the first-day packet he or she will bring home. in order to remain fiscally responsible and to eliminiate paper waste, as well as streamline the process for you, we have moved some of our traditional paper forms to Genesis. These transitioned forms include
Consent to survey student
Posting of child's information on district website
Family military status
Permission for child's photo to appear in news media
Student use of Internet and district network
You will still have the option to apply tiered permission or non-permission to the above; however, you will grant these permissions directly on Genesis. Please note: you will be required to provide a response to each of the above categories before you may view anything else within Genesis.
You will still be receiving some paper forms that must be completed and returned to your child's homeroom/classroom teacher during the first week of school. These include
Lumberton (school-specific) clothing order forms
Student medical history form
Confirmation of viewing of various district policies
Permission to dispense Tylenol/Advil
Permission to dispense prescription medication
Genesis demographic confirmation
Genesis health contact information confirmation
Volunteer affidavit
Locker search and behavior code (LMS ONLY)
You will want to log into the district website at www.lumberton.k12.nj.us to check for other forms that may apply to your child, such as the state physical form for students who participate in extracurricular sports. To find these forms, click on the Parents pull-down menu and click on Forms for Parents, or follow this link: https://www.lumberton.k12.nj.us/forms-for-parents/. You may want to pay special attention to the Medical Forms folder.
Here's wishing you and your child a great start to your new school year!
Lumberton Township School District
Lumberton Township School District offers children in preschool and grades kindergarten through eight an opportunity to receive a first class education in central Burlington County. For more than a decade Lumberton has been one of the most rapidly growing school districts in South Jersey, educating approximately 1,250 students during the 2017-2018 school year. The district's youngest students — from preschool to first grade — learn in Florence L. Walther School. Students in grades 2-3 receive instruction in Ashbrook Elementary School. Students in grades 4-5 are educated at Bobby's Run School. Students in grades 6-8 receive instruction at Lumberton Middle School, a New Jersey Star School. The Lumberton Schools educate students under the leadership of Joe Langowski, Superintendent of Schools, and Thomas Fanuka, Business Administrator. Questions may be directed to the Board of Education Offices, 33 Municipal Drive, Lumberton, NJ 08048, (609) 267-1406.